Praying for dry weather ?
Why not replace that old westy canvas ?
Well to get someone else to do it is very expensive, but you can do it yourself. The main thing to bear in mind is that you need plenty of time to get it right, I'd say estimate it and then double it, you just can't be under time pressure doing this kinda thing.

This is how our van's top looked before the project, not a pretty sight mind you. While the fiberglass shell was in structurally good shape, both the canvas and seal were shot! The first thing we wanted to do was clean the shell. Before starting the cleaning, we removed the rubber seal from around the outside and tore off the loose canvas which was hanging down the sides of the van (fig 1)- a pretty easy task considering mother nature had taken care of most of it.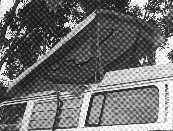 fig 1